Today's Energy Oracle Card Is...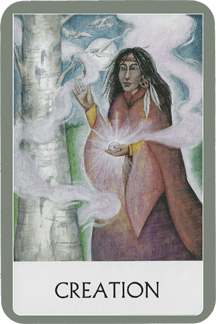 Credits: "Chakra Wisdom Oracle Cards" by Tori Hartman
Today is important in terms of new growth as well as pruning back old ideas that no longer work for you. Your latest mission may well have come to completion now. So, a new, exciting time is ahead of you. Open yourself up to divine inspiration. Let go of your need to be a warrior for the moment because calm waters are ahead!
There is a particularly artistic slant that connects with your path. Creativity is growing within you. It's time to make decisions.
"What do I need to do to see my own gifts? Am I waiting for the permission of another to live and to create my life path?"
Open your journal or notebook at a fresh page. Close your eyes as you ask your guides to walk with you into the mist. When you feel relaxed and ready, open your eyes and write everything that comes to you on the paper. Don't think about the words. You just need to let them flow from you. Perhaps they are jumbled and difficult to read. Maybe they're inspirational. They may not even mean anything to you just now but they will. When you're finished, thank your guides for their companionship.
"I give myself permission to create a positive life and future. I am open to magic!"