Today's Energy Oracle Card Is...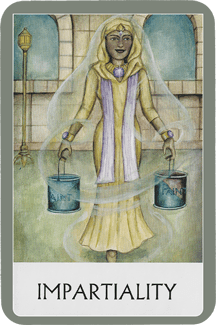 Credits: "Chakra Wisdom Oracle Cards" by Tori Hartman
Today is an interesting one. Rather than the focus being on you, it's actually on others who need to be given the chance to show off their gifts. Perhaps today you will find yourself taking on the role of a neutral adviser. If this is the case, you are entrusted with important work because you are the safe place where others can find their answers. This is not the time to be too opinionated. Not taking sides is the way to go.
Take an objective view of your situation. It is good to watch and listen quietly.
"Can I be neutral? What can I see when I take a step back from my current situation?"
Trust and allow your guides to lead you into the mist. Surrender to them knowing that you will always be safe. Let your guides carry you with their words and energy. You are more of a follower than a leader at this exact moment. You have nothing to worry about because your guides are taking great care of you. You are remaining impartial as you allow things to happen around you. Once you are ready, open your eyes and think about what has just happened.
"I allow things to happen as they should. I do not need to take sides."