Today's Energy Oracle Card Is...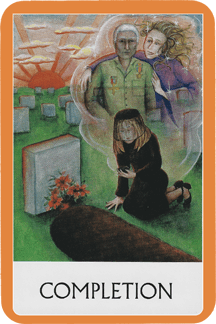 Credits: "Chakra Wisdom Oracle Cards" by Tori Hartman
: Today is filled with warm and bright energy that brings peace and support to something in your life that is coming to an end. Although it's moving, today is not a sad day. There's currently something happening that's just not in your comfort zone. There are signs of completion and endings, however, from these, new beginnings are born.
Today you are asked to consider all the wonderful gifts life has to offer. Remember to also think about the endings because without them new beginnings would be impossible. Embrace completion in your life because new energy arrives soon after.
"How do I feel about completion? Am I always present in the moment?"
Relax as you close your eyes and explore all your thoughts and feelings about endings. It's perfectly normal to feel hope, fear, excitement and sadness. So, get all these down onto paper so you can begin to make sense of your feelings.
"I am ready to begin all over again. The gift of completion brings me new opportunities."