Today's Energy Oracle Card Is...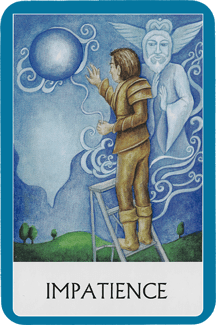 Credits: "Chakra Wisdom Oracle Cards" by Tori Hartman
Watch out for feelings of impatience today. Remember the saying that good things come to those who wait? Well, this should be your focus for the day. If you run ahead of yourself when the timing isn't right you run the risk of achieving little or nothing in the end. Successful people understand the need for patience and perfect timing. You are one of these successful people.
 If you're too hasty you might block something wonderful from happening for you. Now isn't the time for rushed decisions, so just take your time. Everything will happen when it should.
"Am I forcing something? Am I jumping the gun?"
See in your mind something that you want so much. A blue, calming light appears to wash calmness over you. You understand the need to be patient. If you receive any messages during your meditation, write these down so you remember them.
"I have the patience and the focus to make things happen."