Today's Energy Oracle Card Is...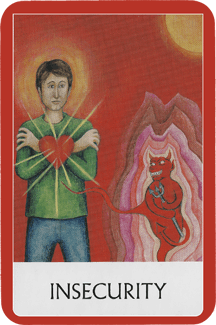 Credits: "Chakra Wisdom Oracle Cards" by Tori Hartman
It's crucial not to feel scared today. You see, when your energy is turned upon itself it can only lead to insecurity and stagnation. Your guides urge you to be courageous so you can fearlessly move forward. Your message today is all about growing in courage by not giving your inner demons any power. You deserve to enjoy your life!
Your life takes a turn for the better as you confront and face your demons. Incredible miracles are within your grasp at the moment. So, have faith that the future will see you feeling so much more secure than ever before. Additionally, an ally will aid you to overcome adversity.
"How can I embrace my courage so I can move on from my fears?"
Starting from a place of peace, call on your spiritual protectors. Share  your fears with them. Ask them to give you both the strength and support to become greater than your worries. Next, ask yourself how you feel and how your inner self has shifted.
"The one who lives within me is my greatest adversary. I am overcoming insecurity right now!"