Today's Energy Oracle Card Is...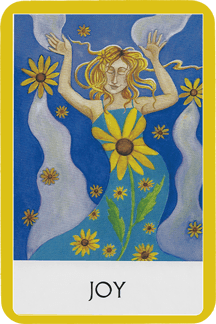 Credits: "Chakra Wisdom Oracle Cards" by Tori Hartman
You feel lighter, brighter, and happier today. Share your good vibes with those around you! However, in the midst of your positivity, there is also a feeling of detachment. You seem to be focused on spreading happiness to others but not on retaining it yourself. Regardless, it is simply lovely to be able to make someone smile.
Today, you are surrounded by a sense of happiness. Also on the horizon are major life changes like marriage, relocation or a great new job. Everything may change very quickly. Just have faith in the process.
"What can I do to invite happiness into my life? How can I become present in each moment?"
From your solar plexus, visualise a warm ball of light. The entire room will fill with tremendous energy as it expands. While focusing on this beautiful light, send love and positivity into the universe. Be confident that great things are about to happen!
"It makes me happy to spread joy with no expectation of return. I have every faith that great things are in store for me."