Today's Energy Oracle Card Is...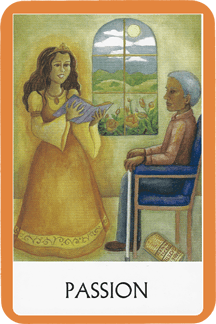 Credits: "Chakra Wisdom Oracle Cards" by Tori Hartman
Today's card contains a hugely passionate energy. However, it has to be said that even though passion is seen, it may not necessarily relate to a love situation. For example, this could apply to your creative focus and your inbuilt gift of igniting a sense of passion within yourself so you can achieve what you want from life. This card also tells that you have the gift of real emotional discipline at the moment.
You feel passionate about your position, which is great. Plus, your instincts are really strong today, so you're intuitively drawn to what's good for you.
"What and who am I ready to stand up for? Are my actions actively supporting my passions?"
Ask yourself the following: What is my greatest strength? How do I respect and serve others? What do I love in life? What challenges do I face? How can I respect myself? Then, with your eyes closed, have a good think about these questions. Answer them as honestly and completely as you can. Then, when you are ready, write down your results.
"I pride myself on being my passionate, authentic self.  I am complete and  fully emotionally centred."