Today's Energy Oracle Card Is...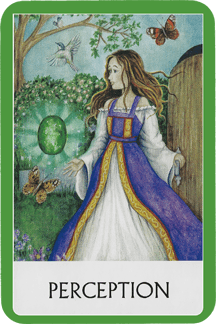 Credits: "Chakra Wisdom Oracle Cards" by Tori Hartman
You have a beautiful heart that innately knows and understands what cannot be seen by the eyes. You are blessed by the gift of insight. And, your big goal is to move forward without looking back. You have an amazing knack of turning negatives into positives. How you see opportunity depends entirely on your perception. So, keep an open heart and mind.
Do whatever you wish to do today in the knowledge that you are to achieve a great deal. Do keep in mind though that your journey may take you in a circle. That's okay though because your life is your own. You can do what you like when you like. Just hold on to your sense that everything happens for a reason.
"How open to possibilities will I allow myself to feel? What should I focus on in life?"
Find a quiet place to relax. When you are fully ready, close your eyes as you feel a powerful flow of beautiful emerald green light overwhelming you and inspiring you with determination. Positive thoughts will then begin to fill your mind. Ensure that you take heed of these direct communications from your guides. When you feel like it, open your eyes again and focus on what you've learned.
"I feel a transformation deep within me. With an open heart I value everything in life."