Today's Energy Oracle Card Is...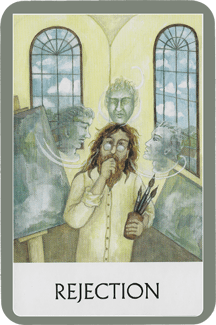 Credits: "Chakra Wisdom Oracle Cards" by Tori Hartman
You don't have to prove yourself to everyone all the time. Today is about accepting yourself and understanding who you are. Maybe a new person will come into your life today, so stay aware. If someone or something doesn't feel right to you, use your inner strength to move forward. Never accept less than you feel you're worth.
You don't need approval from others. You don't need to hide from yourself either. Be honest with yourself.
"Why am I so alone now? Is my environment working for me or against me?"
Imagine yourself bathed in divine ivory light. An ivory tower can be seen in the distance. The drawbridge descends slowly as you approach it. Finally, you reach the tower after walking through the grounds. There is a door up the stairs. But what is behind it? No one knows. Being the curious person that you are, you open the door to find a nice bright room where there is no judgment or rudeness. It feels good to be home!
"I am enough. I do not need other people's approval or opinions to move forward in my life."