Today's Energy Oracle Card Is...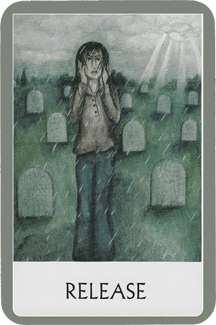 Credits: "Chakra Wisdom Oracle Cards" by Tori Hartman
When you connect with your shadow self, true freedom awaits you. This may not be so obvious to you, but you have a strong sense of inner strength. Today everything will become so much clearer to you. Great wisdom comes from within. You will finally feel ready and able to let go and to release the past.
Let go today or what no longer serves you. It's time to have a clear out of old energy.
"Can I face the past in order to let it go? Surely I deserve to have an amazing future that I can look forward to?"
Sit in a quiet space with no distractions. The answers you seek will come to you amid the  silence and solitude. It's good for you to release anything that bonds you to negative thoughts, people and feelings. Be brave now as you stand in your power. You are taking your life back. When you feel ready, plan out your next positive moves.
"I make peace with the past by releasing what no longer serves me. I feel safe to be me again!"