Today's Energy Oracle Card Is...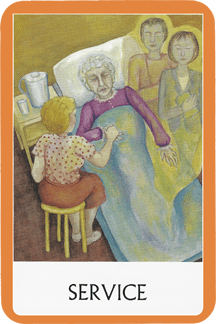 Credits: "Chakra Wisdom Oracle Cards" by Tori Hartman
Today is all about creating and manifesting by being of service to others. You have a strong ability to maintain an emotional connection in order to create something lasting and sustainable. The message of this card can also highlight not valuing or seeing what you currently have.
Are you able to see your reality for what it truly is? Your guides indicate that you have what you need even though you sometimes feel that there is a lot that you lack. Take the opportunity today to review where you are in life now. Perhaps think about giving up what you feel is owed to you so that you can enjoy being of service to others.
"What can I give? What do I have to give? How does the idea of service inspire me? How can I make the most of my current situation?"
Lie back, relax and travel to your favourite place. Ask yourself why you feel the way you do there. What makes it your haven? Search deep within yourself to find these answers. Then, write them down so you can look at them when you need to.
"I build precious memories as I find contentment within the joy of service to others!"